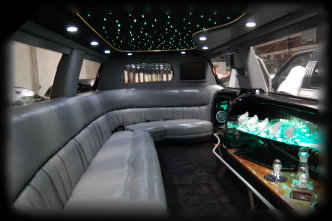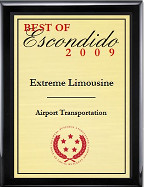 Extreme Limousine has been selected for the 2009 Best of Escondido Award in the Airport Transportation category by the U.S. Commerce Association (USCA).

The USCA "Best of Local Business" Award Program recognizes outstanding local businesses throughout the country. Each year, the USCA identifies companies that they believe have achieved exceptional marketing success in their local community and business category. These are local companies that enhance the positive image of small business through service to their customers and community.

Various sources of information were gathered and analyzed to choose the winners in each category based on quality of service. Winners are determined based on information gathered internally by the USCA and provided by third parties.


Customer Testimonial: Wagner Aeronautical
From someone who has had to rely on limousine service for years, I would like to commend Extreme Limousine. Your service is prompt and courteous even when under extreme pressure from short notice calls. The cars are meticulously maintained and clean. One highlight of your company I truly appreciate is when I call, I get a friendly voice on the other end instead of a recording telling me to hold, or continually push buttons. I can't tell you how much that means to me when my time is so short. The drivers are patient and completely professional. I would recommend Extreme Limo for any occasion, be it corporate or personal.

William J. Wagner
President
Wagner Aeronautical, Inc.


About Extreme Limousine
Extreme Limousine's business building blocks were established over twenty years ago as An Elite Limo. When we took the business over we adopted the same philosophy of quality customer service. The high caliber service we provide is the service we would want for our own families. You are the most important person from the moment you inquire about your service until your transportation is complete. Our objective is to deliver integrity in every area of our business. We meet this goal by extending honest quotes, superior service and by maintaining a high caliber business.
Excellent Service - Courteous and knowledgeable
Quality Fleet - Newer sedans and BMW's, stretch limousines, limobus, and SUV limousines
Professional Chauffeurs - Well-dressed, reliable and punctual
Superior Staff - We extend a personal touch
Integrity - No hidden fees
We strive to meet all of your expectations and look forward to earning your valuable business.
Customer Testimonial: Chicago Title Timeshare
We are a company that uses the corporate transportation services of Extreme Limousine quite frequently. We travel to and from the airports often and our specific needs are repeatedly met. Their staff is consistently prompt, courteous, and reliable. It is reassuring to know that no matter when we call we will be taken care of in a timely manner. Extreme Limousine has made it apparent that our transportation needs are as important to them as they are to us. They strive to meet all of our corporate needs and will do what it takes to provide proper service. We have also used them for our personal limousine transportation. We know that our family is safe and that we will always have an enjoyable time.

Linda Migliore
Vice President/National Sales Manager
Chicago Title Timeshare

JoAnn Lockard, Esq.
Vice President/Division Counsel
Chicago Title Timeshare


Customer Testimonial: Mission Pools
I would like to send this letter of commendation for the services you have performed for my business, my friends and my family. We have used your services for numerous activities including airport transportation, business activities for employees and clients, incentive trip travel, and my personal family use.

Your people have consistently performed dependable and courteous service and your equipment has always been in the best of condition. I also wish to recognize your community service to one of our favorite charities, the Boys and Girls Clubs of Greater San Diego. Your donated and discounted services have assisted the Club raise important program funds for the children of our area and we recognize your commitment to the many community activities you have assisted.

In short, consider Mission Pool and the Dunns one of your best referral sources. We recommend Extreme Limousine to our business associates and family members. Thank you for the continued first class treatment.

G. Bruce Dunn
President
Mission Pools
Customer Testimonial: Coastal Plumbing, Inc.
I wanted to take a moment to thank you and your drivers for an absolutely wonderful "ride" last weekend. The drivers were professional, courteous and provided excellent service to all of our riders. I also wanted to thank you, Jeff. I appreciate you going above and beyond the call of duty in looking for our lost belongings. We will never use another limousine company again! Thank you!

Michelle Bender
Owner
Coastal Plumbing, Inc.


Gas, Tax, and Gratuity are ALL Included. NEVER a Hidden Fee!
| | | | | |
| --- | --- | --- | --- | --- |
| 760.746.1442 | | 877.746.1442 | | |